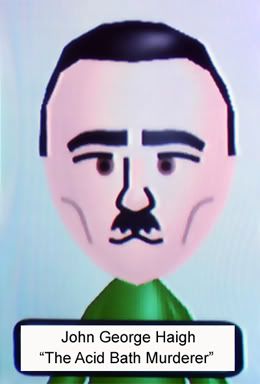 In his earlier days Mr. Haigh was quite the man about town, or rather he became one, after murdering serveral well to do socialites and dissolving their corpses in an industrial vat of acid, making sure he was benefactor to their fortunes. This scamp kept on fuelling his desire for cold hard cash with cold hard murder, making sure his wealth was accruing while his victims were dissolving.
But one can't keep on liquefying the upper echelons of society forever just to make a crust, no one can't. In one of his more lucid moments Haigh came up with a sterling idea: tennis! Yes, tennis. The sport of kings and queens, a sport that attracts very princely sums for tournament winners and a sport that attracts all manner of wealthy socialites. Just in case the day on the court dosen't go as planned theres always some candidates in the stands that can make sure Haigh gets paid.
Mr Haigh got his sums right on this one. The lucrative tennis tours take him around the world, while the acid does it's work at home on his victims sought in the off season. It's a winning combination that makes sure Johnny's kept in all the finery and affluence he's grown used to.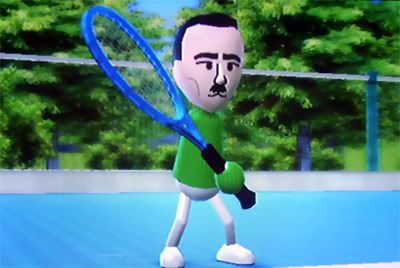 Serving up murder and aces in equal numbers. Do us proud Johnny!
But where does a burgeoning young tennis star and successful serial murderer go from here? Well, it's onto the pro tour and then on to knocking off some lower european royalty for our boy. Yes, he has his sights set on some blue blood to line his coffers (and his acid vats) in the near future as the tour wings its way around europe.
Keep up the good work John, and remember: all that backhand training will help no end next time you need to need knock some wealthy widow's skull right up the back corner of the court!
Mr Haigh's previous works in his field of excellence can be viewed
here